The constant theme in my work is represented by 'the line'. The line creates a connection between my past and my present and my working method has been developed out of necessity: very little time and a growing family which required a way of working allowing bursts of hard graft and period of neglect. As the years have passed, I can now spend time developing ideas and colour schemes all still underpinned by the line.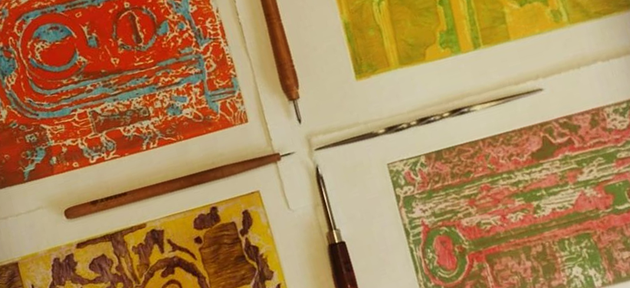 My work is not a constant narrative; it can sometimes be thematic. However it is united by the hands which make it and the printing method used. I currently favour drypoint etching, once used by Rembrandt, so I am in good company. I also use photopolymer etching (also known as solar etching) as well as collagraph and screen printing.
What I like most about printing is best described by painter and printmaker Stephen Chambers: 'printing is a mix of chance, recklessness and the unexpected'
I use patterns and symbols which are all invented and inspired by nature, religious objects, paintings, myths and legend but also the rhythm of poetry and literature.
I am a founding member and current member of The Buckinghamshire Craft Guild and we have a permanent Gallery in Stoke Mandeville (buckinghamshirecraftguild.co.uk). I am also a member of the Bafa Printmaking Network in Buckingham ((Buckingham Art For All).